Well, I finally finished my finals and managed to pull off 4 A's and 2 B's this semester. I'm pretty pleased, but in my head, I keep imagining how I would have freaked out in high school if I made those same grades. Took my last final Saturday night, and by 8 pm Sunday I was home. Monday was my sleeping day - I slept until 2 in the afternoon! Everything has been crazy since then - I've been helping my mom with all of the Christmas stuff, I went to work today, and in my spare time, I've been working on my granny's shawl. Let's just hope I can finish it by Christmas!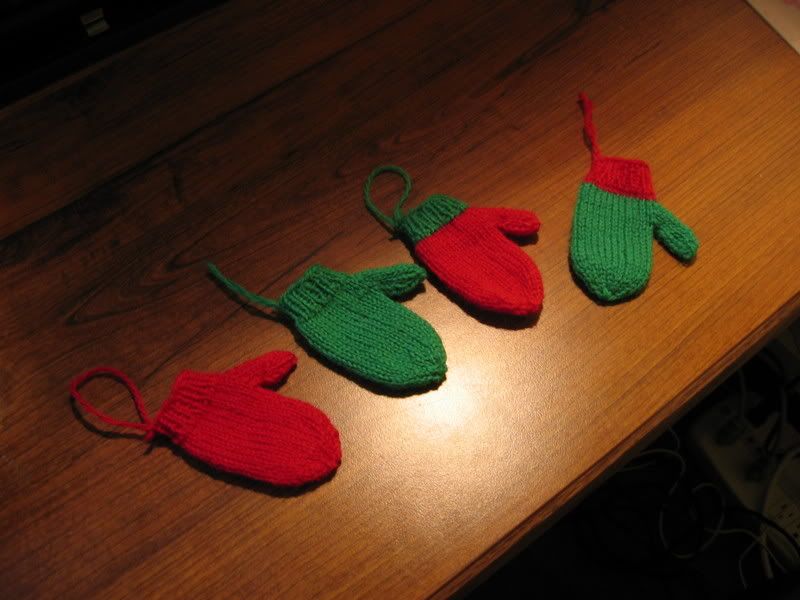 These are the ornaments I made for the KTC Ornament swap. They're the mitten ornaments from the Holiday 2006 IK. I seriously loved making these little guys!
Yarn: KnitPicks Palette in Red and Green
Needles: US Size 2 and 3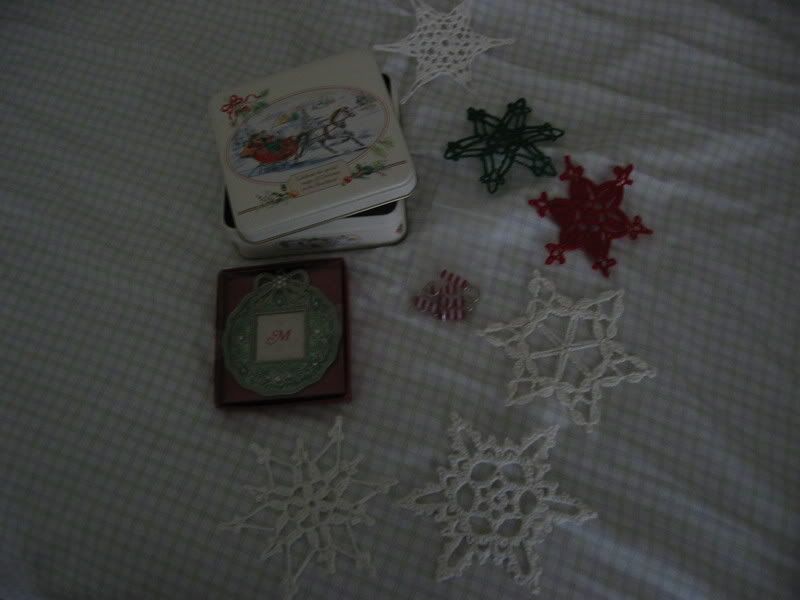 Speaking of ornaments, this is the package I received from my swap partner,
Patty
. I realize the picture is pretty crappy, but the weather hasn't been the greatest down here in Texas. Tomorrow is supposed to be a sunny day, so hopefully I can take a better picture. Until then, this will have to do. Besides these beautiful crochet snowflakes, I was gifted a very pretty photo frame ornament and five candy cane stitch markers! I remember seeing this on
KTC
and thinking how pretty and delicate these snowflakes were. Also, I wondered how I could make some stitch markers like that (these are the first non-plastic ones I've gotten), so imagine my surprise when I opened my package, a week after it arrived, and found out that I was the lucky recipient! Thanks so much Patty!
Besides being busy with Christmas stuff, I went with my sister to see the movie
Eragon
. Granted, it wasn't as bad as I was expecting it to be, but it wasn't that great either. Personally, the book is way better.
Now, it's off to start the Christmas baking - at 10:30 at night! Yay!