Wow, I can't believe it's been three months since my last post. I just guess I got super busy with school. But, this week is my final week of classes, and next week I have two finals to take, and then I'll be done with this semester. I'm a little sad to see it end because I liked a lot of my classes. But, I'm glad that I'm through with group projects - those almost killed me this semester.
On the knitting front, I finally finished my granny's shawl. Here's a not very good picture of it blocking.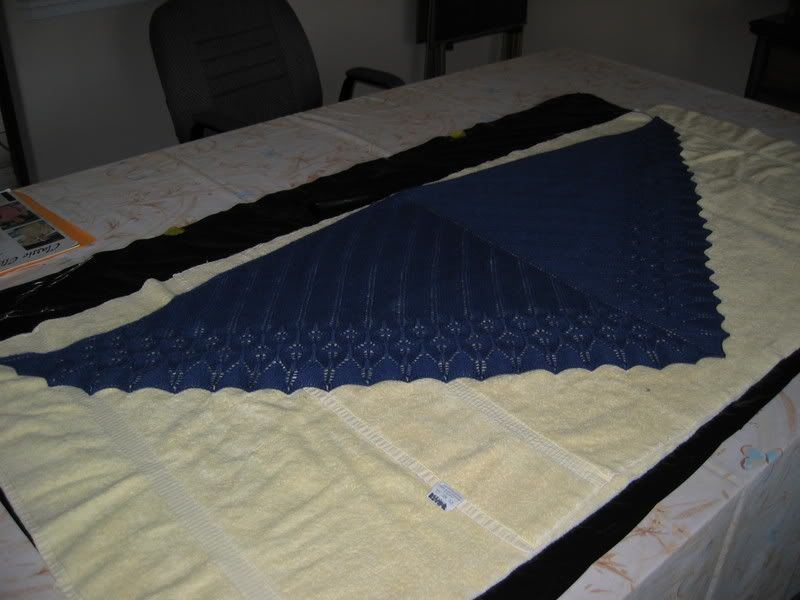 I used almost two skeins of KnitPicks Shadow in Jewels. This was my first time blocking something, and while it isn't the greatest (I wanted the points pointier), the shawl still looks great and feels wonderful. My granny just loved it, even though I'm pretty sure she hasn't worn it yet.
I also finally decided to hop on the bandwagon and knit this
little beauty
. I've decided to make it smaller by using fingering weight yarn and size US 7 needles. I'm using KnitPicks Memories in the Rocky Mountain Dusk colorway. Here's a shot of my progress so far:
I love how the colors create a sort of diamond look!
These are the goodies I got from my
swap partner
over at
Knit the Classics
. I'm a little late posting this. The package arrived at my house almost two weeks ago, but I didn't get to open it until this past weekend when I went home for my birthday. The theme for the spring swap was start your swap buddy on a new series. She sent me two really great books (three if you count the two books in one) - James Herriot's
All Creatures Great and Small
and
All Things Bright and Beautiful
and Colm Toibin's
The Master
.
I can't wait for school to be finished, so I can start reading both books. I also got these cute little handmade lavender sachets that she made! Also, she sent me two skeins of Lorna's Laces Shepherd Sock in Black Purl. It may not show up well in the picture, but the color is made up of different shades of purple and is just beautiful! I've been wanting to try Lorna's Laces for awhile now and just need to find the perfect sock pattern for this yarn. I also got a postcard, some great smelling lotion, and delicious chocolate. Thanks so much Jodi!